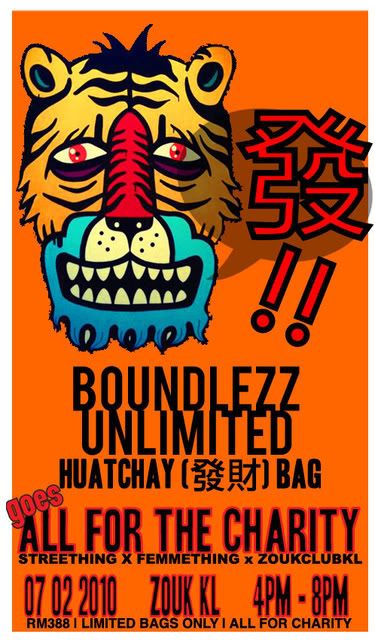 we are proud to announce that the Boundlezz Huatchay Bag is participating in the Streething X Femmething X Zouk Club KL Charity Sales.
portion of the proceeds will go to the charity noted on streething.com
come and HUAT and do some Charity too!
HUAT you HUAT for the unfortunate too this new years!
we still have:
1. KAWS COMPANION DISSECTED 15" VINYL - BLACK (1/1)
2. KAWS COMPANION DISSECTED 15" VINYL - BROWN (1/1) ..... only WHITE is gone
3. STUSSY X BEARBRICK 1000% (1/1)
4. MASTERMIND X BEARBRICK 1000% (1/1)
5. NEIGHBORHOOD X STUSSY JACKETS (3/4)
6. KAWS X LEVI'S JEANS (1/1)
7. SIMPSON X VANS SK8 (1/2)
8. MARC JACOBS X VANS SK8 (1/1)
9. NEIGHBORHOOD T-SHIRTS (5/9)
10. UNDERCOVER X VANS SLIP ON (1/1)
11. FRAGMENT KANGOL CAP (1/1)
12. NEIGHBORHOOD JEANS (1/1)
13. BOUNDLEZZ FURY SANDALS (9/30)
14. SAWAGAFUJI FRAMES (8/15)
15. SUBCREW ACU SET (1/1)
16. SUBCREW BACKPACK (5/10)
17. VANS VAULT CHECKERED PONEY SHOES (4/10)
18. CLOT X JUICE KL OPENING CAP (1/1)
for more info:
http://www.streething.com/archives/18279